This pumpkin chickpea curry is one of my absolute staple dinners, and it's actually one of the first recipes I shared on the blog. I make it regularly, so I thought it was about time I updated the photos. I'm still no top-notch food stylist, but believe me, it looks much more appealing now!

Ingredients List
Pumpkin (approx 1kg)

2 onions
2 cloves garlic
Piece of ginger (approx thumb sized)
Fresh chili (or 1 tsp chili flakes)
2 tsp curry powder
1 tbs mustard seeds
1 tsp cumin
1 tsp turmeric
Can of coconut milk
1 cup veggie stock
Can of chickpeas (drained and rinsed)
Juice of half a lime
Coriander and lightly toasted cashews to top (optional)
Steps
Dice the pumpkin into roughly 2cm cubes

Dice the onion and chilli (remove the seeds if you want it less spicy)
Finely dice the ginger and garlic
Heat oil in a saucepan then add mustard seeds and chili. Stir until the mustard seeds start popping
Add the onions and cook for approximately 5 minutes
Add the ginger and garlic and cook for another minute
Add the cumin, turmeric and curry powder and stir to combine
Add the pumpkin and stir through
Pour in the coconut milk, followed by the stock and chickpeas
Stir to combine all ingredients then cover and simmer for 20 minutes
Once sauce has thickened and pumpkin is soft add the lime juice and then serve with rice
Sprinkle with fresh coriander and toasted cashews to serve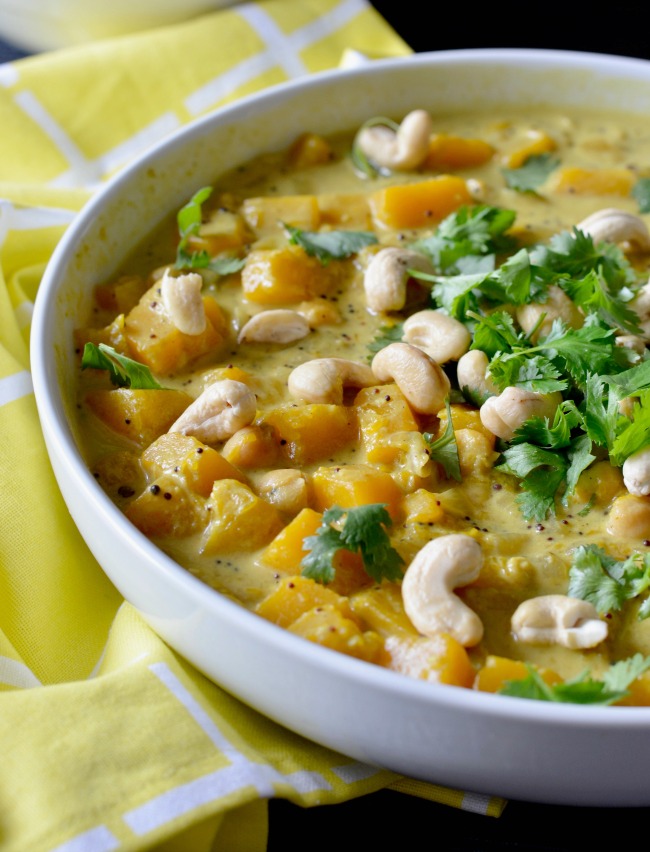 This pumpkin chickpea curry is creamy and filling, making a perfect autumn dinner option. Plus, it's vegan friendly and gluten free so excellent for people with dietary requirements as well. It's also super cheap to make, so it's a good one for the end of the pay-cycle too!
You can make this as spicy as you like as well – just up the chilli content if that's your thing! I usually go for a medium heat personally, but play around see what's your favourite. I also usually keep a few serves in the freezer for after long days at work. Then all I need to do is pop some rice on and dinner is ready!
Who's keen for some pumpkin chickpea curry?